The Syrian Digital Military has hit again – this time including the head of the famous Financial Times to its collection of hi-jacked records that belong to well-known press organizations.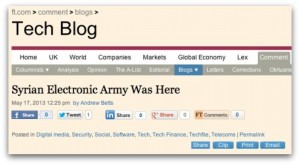 Hackers from the Syrian Digital Military appear to have thieved the protection passwords of FT team with access to the newspaper's social networking records, and published unexpected blog records and twitter posts earlier today.
Here are some illustrations of the damage due to the hackers:

Of course, the coughing of such a famous target doesn't go unseen – and the FT's protection team scrambled into action, caution visitors about the issue and removing harmful information as they were found.
The Syrian Digital Military isn't above massaging sodium into the injuries, clearly finding it enjoyable to post the email and protection password of at least one FT employee who apparently (we won't post it here) select a rather foolish protection password.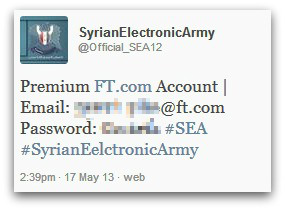 In recent weeks Syrian Digital Military on the internet hackers have efficiently accessed records from companies The Protector, the BBC, NPR, and CBS with obvious ease, forcing Tweets take the uncommon step of attaining out to news and press organizations to notify them about the present strikes, and offer advice on protecting actions.
The problem is increased by Twitter's present system of requiring that every Tweets consideration only has one username/password connected with it.
This is compared with the way Facebook or myspace pages work where individual customers can be allocated different rights for handling and providing their company's on the internet existence. Along with two aspect verification (known as Sign in Mortgage approvals on Facebook) this provides an advanced level of protection, and greater granularity about what customers can do.
Twitter's approach certainly leads to press organizations, who are forced to twitter update breaking experiences night and day, to share Tweets protection passwords with many team globally – and hold their breath that none of them get compromised or have their qualifications phished.
It would be excellent if Tweets could present two aspect verification. It would be excellent if Tweets could present a way for companies to give different staffers individual logins for the same consideration.
And it would be excellent if press companies could train their team to be dubious of unwanted e-mails, be suspicious of simply simply clicking unidentified links, and of unknowingly passing their protection passwords over to scammers
The fault for the hackers' success, after all, shouldn't entirely fall on Twitter's front door. Ultimately it was a human, working for the press company, who made an error and was deceived into giving the important factors to the adventure to a lot of on the internet hackers.