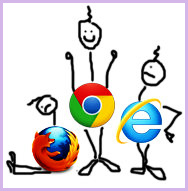 In worldwide browser wars Chrome has won the first position in market share, this was the latest updated news by the multiple media organizations.
New Version Internet Explorer 10 upcoming with windows 8 this year and also will be made available to the users of Windows 7. IE 10 has complete application bit of 64 on windows of 64 bit which will raise the ASLR techniques. It is also coming with new setting Enhanced Protocol Mode (EPM). This setting set up with the free plug-in browsing and also contains several other new techniques.
Mozilla also going to release their newly updated Firefox 14 with enhanced security features. To maintain privacy Firefox using default settings HTTPS when submitting the queries for search to Google and it also contain another plug-in to prevent drive-by misuse. Google chrome is planning to update next new version Chrome 21 with complete new version of Adobe Flash for all windows versions.