Many of them are not enough to know about malware attacks it's mainly affects through email notifications and it will affect the windows PCs.
In recent times there are lot of spammers are there and they are misusing many of the systems by DHL malware the main aim of the DHL is to steal the username and password.
The same issues is come from different products like UPS or FedEx in this the malware is occur so we have to make sure that not to click the unsupported links.
The malware that strikes most of the systems most of the spammers learnt the technique how to cheat others by sending malware attacking mails in that mail everything is very clear like original DHL package delivery mail.
The sample mail is as follows. Dear with this message we notify you that delivery at your destination, tracking ID # [number], has FAILED due to an address discrepancy. To obtain your delivery please print out the attached document and contact DHL US support Feel free to contact us with further questions.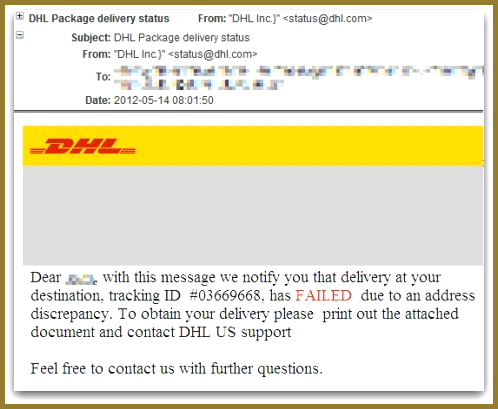 The DHL report mail is in .zip format which contains malware program to strike windows PCs.
So the people should be alert while clicking the DHL mail.